DI Southern Cone publications
Danone Institute of the Southern Cone (DISC): publications
Danone Institute of Southern Cone : mission, foundations and production
The Danone Institute of the Southern Cone (DISC) was founded in 2008, and it is the local chapter for Argentina, Chile and Uruguay of the Danone Institute International network.
The mission of the DISC is to promote scientific research, professional training and the dissemination of knowledge to help improve nutrition, health and quality of life of people both in Argentina and in the Southern Cone region.
Since its foundation, the DISC has been identified by the more than 200 experts that took part of it projects as a collaborative meeting place to reflect with their peers, all of them remarkable scientists coming from different and complementary specialties, on key aspects of the public health linked to food.
Being aware of the diverse influences on people's food choices and eating habits and their subsequent impact – including economic, social, psychological, environmental and cultural factors, collectively known as "Alimentation", those experts have considered that their contribution was enhanced when they approached such complexity together with other colleagues who shared their objectives and commitment to improve people's lives, in a framework of editorial freedom.
This DISC's footprint has guided every project through different scientific activities -from open seminars and symposia to experts' workshops, many of which have resulted in the edition of a textbook, in Spanish language, delivering a Southern Cone-focused, integrated perspective of the main issues and opportunities emerging from the alimentation – public health relationship in the light of the best available science.
DISC publications:
All the titles of the DISC collection are freely available to any member of the community aiming at nurturing their knowledge, following the reflection triggered by the authors and, in the end, capitalizing on their learnings to better contribute to peoples' health.
Instituto Danone del Cono Sur (IDCS): misión, cimientos, producción.
El Instituto Danone del Cono Sur (DISC) fue fundado en 2008, y es el capítulo local para Argentina, Chile y Uruguay de la red del Instituto Danone Internacional.
Su misión es promover la investigación científica, la formación profesional y la difusión de conocimientos para contribuir a mejorar la nutrición, la salud y la calidad de vida de la población, tanto en la Argentina como en la región del Cono Sur.
Desde su fundación, el IDCS ha sido identificado por los más de 200 expertos que participaron en sus proyectos como un lugar de encuentro colaborativo para reflexionar con sus pares, todos ellos científicos destacados provenientes de especialidades diferentes y complementarias, sobre aspectos clave de la salud pública vinculados a la alimentación.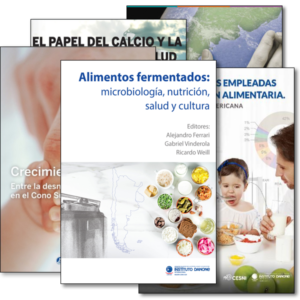 Conscientes de las diversas influencias en las elecciones y los hábitos alimentarios de las personas y sus consiguientes repercusiones -incluidos los factores económicos, sociales, psicológicos, ambientales y culturales (conocidas colectivamente como "Alimentación"), esos expertos han interpretado que su contribución se potencia cuando abordan esa complejidad junto con otros colegas que comparten sus objetivos y su compromiso por mejorar la vida de las personas, en un marco de libertad editorial.
Esta huella del IDCS ha guiado cada proyecto a través de diferentes actividades científicas -desde seminarios y simposios abiertos hasta talleres de expertos, muchos de los cuales han dado lugar a la edición de un libro de texto, en idioma español, que ofrece una perspectiva integrada y centrada en el Cono Sur sobre los principales desafíos y oportunidades que surgen de la relación entre la alimentación y salud pública, a la luz de la mejor ciencia disponible.
Publicaciones del IDCS:
Los títulos de la colección IDCS están a disposición de todos los miembros de la comunidad que busquen enriquecer sus conocimientos, continuar la reflexión iniciada por los autores y, en definitiva, capitalizar sus aprendizajes para contribuir a mejorar la salud de las personas.