Conferences on food, nutrition & health
International conferences about food, nutrition and health
To share scientific knowledge with scientists and health professionals, the Danone Institutes promote scientific exchanges by organizing scientific meetings, symposia or workshops. They involve some of the most renowned experts worldwide. These events present the most recent developments in the field of food, alimentation, nutrition and health, identify new research avenues, and explore the practical implications of new knowledges.
Upcoming conferences
Balancing planetary and human health: the crucial role of biodiversity
Save the date for the next Symposium organized by the Yogut in Nutrition Initiative for sustainable balanced diets. The symposium will be online on June 10, 2021, from 12:00 to 13:30 EDT (18:00 to 19:30 CET), as sponsored satellite event of ASN Nutrition 2021 Live Online.
Online access opened to all scientists registered to join the ASN Nutrition 2021 Live Online, June 7 – 10.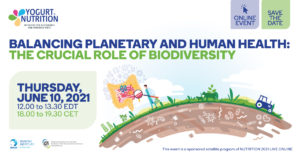 > For more information regarding the program, speakers, synthesis… you are welcome on the yogurt in nutrition website.
2nd edition of the Danone International Prize for Alimentation Award and lecture
Dr. Jess Haines, Associate Professor at the University of Guelph, Canada, is awarded the Danone International Prize for Alimentation (DIPA) for her groundbreaking research into promoting sustainable healthy eating among families, through novel, interdisciplinary research and knowledge mobilization. We invite you to attend the online Award ceremony during the ASN Nutrition Online Preconference Week, on 3rd of June 2021, 10:00 AM EDT.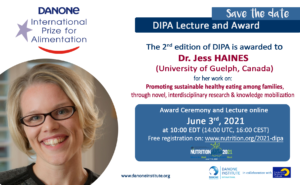 Free registration is opened on nutrition.org/2021-dipa.
> More information about the Prize and the laureate on our dedicated page.
Previous conferences
Live expert panel on sustainable diets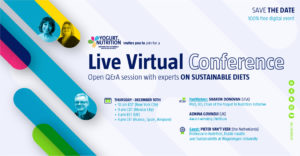 The Yogurt in Nutrition initiative organized an open online Q&A session with experts on sustainable diets on  December 10th, 2020.
Three worldwide guests co-hosted the event: Pieter van't Veer (the Netherlands), Professor in Nutrition, Public Health and Sustainability at Wageningen University, who did shortly present his latest research on diet optimization through modeling; Sharon Donovan (USA), Chair of the Yogurt In Nutrition Initiative, who did open the event andAzmina Govindji (UK), an expert nutritionist and dietitian, who did animate the debate.
> Find the recap on the "yogurt in nutrition" website
Eating to protect our health and our planet- Online event (e-Nutrition 2020)
The American Society for Nutrition organized in June 2020 its annual congress on live format. YINI had a e-symposium during this live online event, chaired by Sharon Donovan and Olivier Goulet, with the following program:
Creating a sustainable food future: a menu of solutions to feed nearly 10 billion people by 2050 – Janet Ranganathan
Healthy and sustainable diets: What do we learn from modeling studies?– Pieter van't Veer
How to achieve sustainable healthy eating in practice?– Jess Haines
Can yogurt address malnutrition? (FENS 2019, Dublin, Ireland)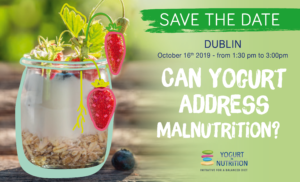 A YINI symposium has been organized during FENS 2019, on October 16th, in Dublin.
The symposium, chaired by Prof. Sharon Donovan, PhD, RD (Past President American Soc. for Nutrition, Professor of Nutrition, University of Illinois, USA) and Prof. Olivier Goulet, MD, PhD (Professor of Pediatrics Hôpital Necker Enfants Malades University Paris Descartes, France) proposed the following program:
An easily digested fermented milk and a nutrient-rich option (Dr Barbara J. Rolls)
Yogurt consumption & NCD associated with malnutrition, overview of epidemiological data (Prof. Angelo Tremblay)
Can yogurt be a sustainable food choice? (Prof. Frans Kok )
> You can find  the synthesis of the conferences on yogurtinnutrition.com
Sustainable diets (ASN 2019, Baltimore, USA)
The "Yogurt in Nutrition Initiative" gathered experts during the ASN annual meeting, Nutrition 2019,  in Baltimore in June 2019. This YINI symposium, organized on  June 10th, 2019,  was on "Sustainable diets".
> Discover abstracts, bios and detailed synthesis on yogurtinnutrition.com
Yogurt as a vehicle of healthy eating in children (Nutrimad 2018, Madrid)
YINI experts gathered during the IV World Congress of Public Health and Nutrition,  on 24-27 October 2018 in Madrid (Spain). This  YINI symposium was organized  with the following program:  "Yogurt as a vehicle of healthy eating in children".
> More info on Yogurtinnutrition.com
Yogurt, more than the sum of its parts (Nutrition 2018, Boston)
The 6th YINI summit was organized during the Nutrition 2018 Congress, on June 10st, 2018. This year topic: "Yogurt, more than the sum of its parts".
> The abstracts, synthesis and speakers presentations are available on Yogurtinnutrition.com
Nurturing Children's healthy eating (N&G 2018, Paris)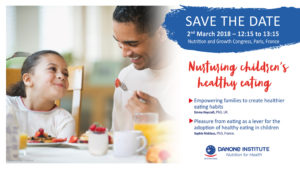 This DII symposium was organized during the Nutrition & Growth Conference, on March 2nd, 2018.
The topic: Nurturing children's healthy eating.
Discover the conferences online
Previous Global Summits and Conferences
The role of family in nurturing healthy eating habits in children (21st ICN, Oct. 2017, Buenos Aires) : The Danone Institute International organized a symposium about "The role of family in nurturing healthy eating habits in children" on October 17th, 2017. > For more information (synthesis, bio, abstracts)
The 5th Global Summit on the Health Effects of Yogurt took place during the 21st International Congress of Nutrition, on October 18th. The summit was focused on "Yogurt, the gut microbiome and health". > More information on  yogurtinnutrition.com 
How yogurt could improve health in children? (N&G 2017, Amsterdam): YINI' conference was organized during Nutrition & Growth Congress, 2017, in Amsterdam, on "How yogurt could improve health habits in children". Topics, such as diet quality and lifestyle factors, impact on health markers, taste development and flavour preferences, were discussed.> More information on  yogurtinnutrition.com 
Feeding the immune system – the 10th Danone International Prize for Nutrition lecture (EB, 2016, San Diego) : Prof. Philip Calder (Southampton University, UK), the 10th laureate of the Danone International Prize for Nutrition, has been awarded during the ASN Nutrition sessions at Experimental Biology Congress, to be organized in San Diego, USA, in April 2016. The ceremony, followed by the laureate lecture was organized on the 5th April, 2016. The award ceremony was followed by the laureate's lecture on "Feeding the Immune System".
Exploring the role of family in nurturing healthy eating habits (N&G 2016, Vienna): The Danone Institute International proposed a conference during the 3rd International Conference on Nutrition and Growth, in Vienna (Austria) in 

March, 2016

,

 about

"Exploring the role of family in nurturing healthy eating habits." > More information 
The 4th Global Summit on the Health Effects of Yogurt (EB, San Diego, April 2016) . The summit focused on: "Yogurt & (Type 2) Diabetes, translating evidence into practice". The content, synthesis, videos are available on yogurtinnutrition.com
3rd Global Summit on the Health Benefits of Yogurt (ASN Nutrition Sessions during Experimental Biology, May 2015, Boston, USA). The content, synthesis, interviews, videos of the Summit are available on yogurtinnutrition.com
2nd Global Summit on the Health Benefits of Yogurt (ASN Nutrition Sessions during Experimental Biology, March 2014, San Diego, USA). The 2nd Global Summit on the Health Effects of Yogurt at a glance is on yogurtinnutrition.com
First Global Summit on the Health Benefits of Yogurt (ASN Nutrition Sessions during Experimental Biology, March 2013, Boston, USA). Discover all the conferences online, in video, following the detailled program of the meeting on yogurtinnutrition.com
The Human Gut and microbiome, a conference of  Pr. Jeffrey Gordon, laureate of the 8th Danone International Prize for Nutrition, in 2011. (Conference in flash player)
"Nutrition economics: Food as an ally for Public Health" , a symposium organized by the Danone Institute International during the 11th European Nutrition Conference, in Madrid, Spain, in 2011. (Conference in flash player)