The role of family in nurturing healthy eating habits in children
The role of family in nurturing healthy eating habits in children
The Danone Institute International will organize a new symposium during the 21st International Congress of Nutrition to be held in Buenos Aires (Argentina), in October 2017.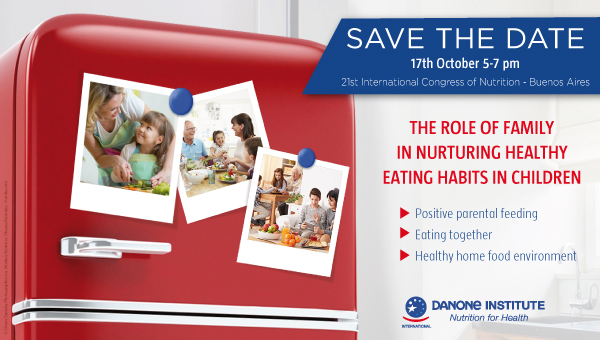 The conference "The role of family in nurturing healthy eating habits in children" will be chaired by Prof. Olivier Goulet (Hôpital Necker-Enfants malades, Paris, France) and will be planned on October 17th, 2017 at 5 pm.
Program
Parental socialization of healthy eating habits among children, by Sheryl Hughes (USDA ARS Children's Nutrition Research Center, Baylor College of Medicine, Houston, USA)
Improving children's eating habits through eating together, by Jess Haines (Dpt of Family Relations and Applied Nutrition, University of Guelph, Canada)
How to create a healthy home food environment, by Leslie Lytle (Dpt of Health Behavior and Nutrition, Gillings School of Global Public Health, University of North Carolina at Chapel Hill, North Carolina, USA)
For more information: 21st INC website.
Previously…
The Danone Institute International proposed a conference during the 3rd International Conference on Nutrition and Growth, in Vienna (Austria) on the 18th March, 2016, about "Exploring the role of family in nurturing healthy eating habits."
The complete e-book of the symposium is available online.