The role of family in nurturing healthy eating habits in children
The role of family in nurturing healthy eating habits in children
"The role of family in nurturing health eating habits in children": the Danone Institute International has organized a new symposium on this topic during the 21st International Congress of Nutrition, in Buenos Aires (Argentina), in October 2017.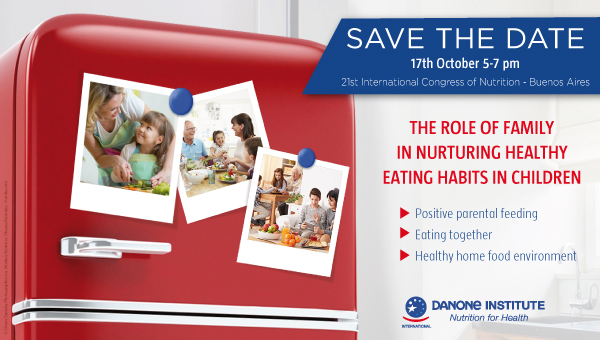 The conference "The role of family in nurturing healthy eating habits in children", chaired by Prof. Olivier Goulet (Hôpital Necker-Enfants malades, Paris, France) has been organized on October 17th, 2017 at 5 pm.
You will find below the detailed program as well as the speaker's presentation for download.
Program and presentations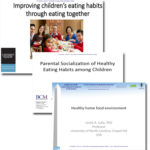 Parental socialization of healthy eating habits among children, by Sheryl Hughes (USDA ARS Children's Nutrition Research Center, Baylor College of Medicine, Houston, USA)
Improving children's eating habits through eating together, by Jess Haines (Dpt of Family Relations and Applied Nutrition, University of Guelph, Canada)
How to create a healthy home food environment, by Leslie Lytle (Dpt of Health Behavior and Nutrition, Gillings School of Global Public Health, University of North Carolina at Chapel Hill, North Carolina, USA)
Associated new publication: "Nurturing children's healthy eating: empowering the role of families"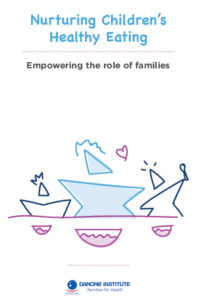 Future global health depends on the health of today's children. Those children who establish healthy eating and activity behaviours early in life are well-equipped to maintain their good health far into adult life.
Nurturing healthy habits in our children therefore offers a fantastic opportunity to make inroads into important public health concerns such as tackling the worldwide epidemic of overweight and obesity, and their associated health consequences.
With this in mind, Danone Institute International (DII) has joined forces with experts in the field to develop a unique perspective on the topic.
One of the outcome is this new document, which aims to set out the current evidence and lay the foundations for empowering families to nurture healthy eating habits among the children of the world.
Discover and download the publication
Previously…
To go further and enrich the scientific topic, we invite you to learn more about "Exploring the role of family in nurturing healthy eating habits". 
The Danone Institute International proposed a conference on this topic during the 3rd International Conference on Nutrition and Growth, in Vienna (Austria), in March 2016.
The complete e-book of the previous symposium is available online.