The finalists of DIPA 2020 : Vicky Drapeau
Every week, we are making the focus on one of the 10 finalists of the 2nd Edition of the Danone International Prize for Alimentation. Today, learn more about Vicky Drapeau.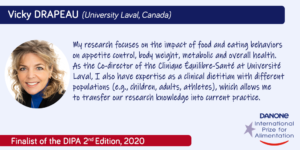 "My research focuses on the impact of food and eating behaviors on appetite control, body weight, metabolic and overall health. Specifically, our work aims to characterize dietary practices (i.e., food choices and eating behaviors) that influence appetite control, body weight management, and overall health; and develop more efficient interventions, focusing on non-restrictive positive eating behaviors. As the Co-director of the Clinique Équilibre-Santé at Université Laval in Quebec City, Canada, I also have expertise as a clinical dietitian with different populations (e.g., children, adults, athletes), which allows me to transfer our research knowledge into current practice. Our work is linked with DIPA's purpose since it aims to better understand diverse influences on eating habits and to better intervene by encouraging eating practices that contribute to individuals' health through a multidisciplinary approach.
To take a step further in the field of alimentation, I applied to DIPA because it would contribute to improving our capacity to better intervene through an innovative and collaborative strategy that considers many individual and environmental determinants of food choices and eating behaviors in youth and their families and that would ultimately lead to sustainable healthy eating habits."
Learn more about the 10 finalists on our dedicated page