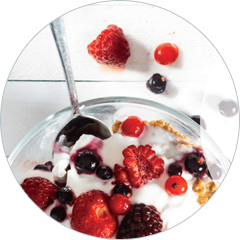 YINI symposium at the 17th International Congress of Dietetics
7 July 2016
Save the date: a new YINI symposium is organized during the 17th International Congress of Dietetics will take place in the city of Granada (Spain) on the 7th-10th of September 2016.
This symposium "Are we underestimating the benefits of yogurt?" will aim at rediscovering the benefits of yogurt consumption, as a simple basic food to be part of a healthy & balanced diet.
Are we underestimating the benefits of yogurt?
Although milk and yogurt are similar in their nutrient composition, yogurt possesses unique properties that may provide additional health benefits. These include its nutrient density, high digestibility, and bioavailability of nutrients and lactic acid bacteria, which may affect gut microbiota, and its food matrix. These unique characteristics of yogurt are blended together in harmony in such a way that it offers a benefit above and beyond the value of the inherent calcium, protein, live bacteria, whey, and so on. The whole is certainly greater than the sum of its parts: yogurt is a sustainable and healthy choice in a daily diet !