The finalists of DIPA 2020: Julia Lumeng
Every week, we are making the focus on one of the 10 finalists of the 2nd Edition of the Danone International Prize for Alimentation. Today, learn more about Julia Lumeng.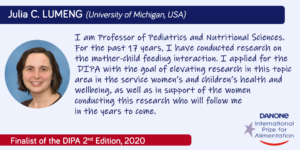 "I am Professor of Pediatrics and Nutritional Sciences, at the University of Michigan, USA. For the past 17 years, I have conducted research on the mother-child feeding interaction. There is a long history in science of subtle but persistent bias such that the research focused on women and children – as well as research led by women – receives less scientific and public attention than research for and by other groups. This bias has the potential to adversely impact the lives of all women and children.
I applied for the DIPA with the goal of elevating research in this topic area in the service women's and children's health and wellbeing, as well as in support of the women conducting this research who will follow me in the years to come."