Growing leaps and bounds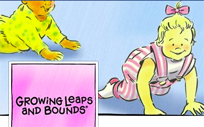 Growing Leaps and bounds is an educational program, organized by Dannon Institute (USA) to support pediatricians' efforts to guide parents of children ages one month to five years of age on nutrition, feeding and physical activity.
The series of materials links healthy eating, exercise and childhood development and supports anticipatory guidance to help parents and caregivers make the best choices for their children as they grow and develop.
Discussions with practicing pediatricians revealed that while there is an abundance of educational material on nutrition, feeding and physical activity, it would be desirable to have this information compiled in one comprehensive set of materials. Pediatricians also are concerned about childhood obesity and recognize the strong impact they need to make by educating parents and caregivers.
Growing Leaps and Bounds was developed by experts in the areas of nutrition, child psychology, exercise physiology, pediatrics and obesity. Practicing pediatricians and parents have also reviewed the Growing Leaps and Bounds materials and their suggestions for both the content and format have been incorporated.
The Growi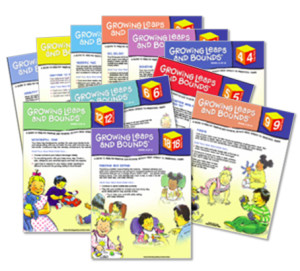 ng Leaps and Bounds materials are designed to…
Provide parents with a comprehensive resource they can use between well-child visits
Empower parents to create a healthy environment for their children by making smart food choices for themselves and making physical activity a normal part of their day-to-day lives
Help parents understand better the relationship between food, physical activity and overall health
Encourage discussions between the pediatrician and caregiver about proper nutrition, feeding behaviors and physical activity for the child
For more information
https://www.facebook.com/growingleapsandbounds
Contents
Each period of the child development has its own leaflet, download it in pdf: